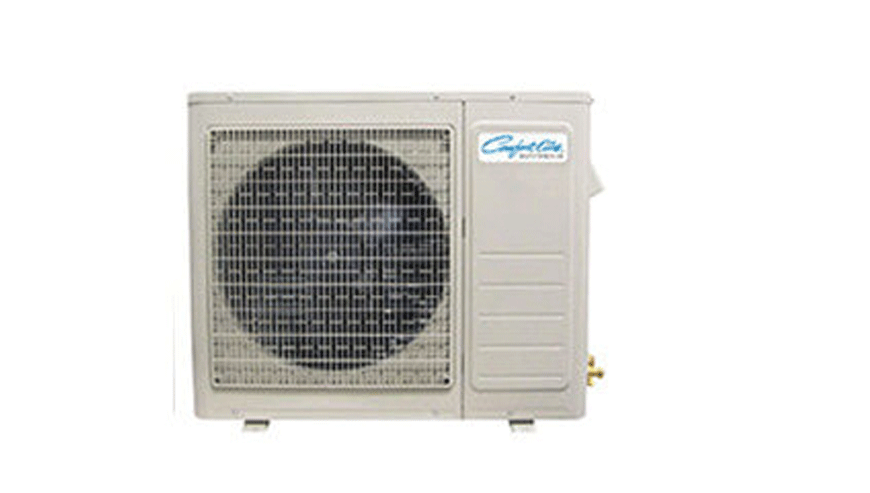 23,000 BTU DV Series Single Zone Ductless Mini-Split Air Conditioner (Outdoor Unit)
Our "DV" Series, rated up to 17.7 SEER, offers economical zone control because only the room or area being used is conditioned and inverter technology matches the compressor speed to the room's changing temperature requirements.
A wireless remote makes it easy to select both temperature and mode, and a handy holder comes with the remote. With the "Follow" feature activated, the remote detects the temperature at its location and the unit adjusts operation to reach the set point wherever the remote is located in the room.
The indoor air handler features a sleek design that extends just 7-3/8" to 8-5/16" into the room, depending on the model. And the air handler has a self-cleaning evaporator coil with gold fin anti-corrosive coating which prevents bacteria from breeding and spreading.
Overview
Brand :

Comfort-Aire

Energy Star Rated :

No

Refrigerant Type :

R-410A

Voltage :

208/230v

Max. Pipe Length (ft.) :

98

Cooling Capacity (BTU) :

23000

Product Type :

Outdoor Unit
Features:
Whisper Quiet -High tech fan in the indoor unit delivers balanced airflow
Temperature Compensation - Indoor unit adjusts automatically as needed to eliminate stratification between the ceiling and floor temperatures
Random Swing - Continually adjusts air direction for a gentle, breeze-like effect
Multiple Modes - Cooling, dehumidification only, air circulation (heating in heat pump models) plus: Sleep mode, 24-hour timer, and turbo mode
Auto Operation - Automatically adjusts to maintain a constant temperature/humidity level
Air Filtration - An air filter helps trap dust, pollen and other particles in the air; this permanent filter is designed to be washed on a regular basis and re-installed
Auto Restart - Reverts to the last setting following a power failure
Low Ambient Operation - Crankcase heater allow operation at 5°F (cooling)
Auto Defrost - also sump and a crankcase heater to keep the oil warm and reduce the need for defrosting