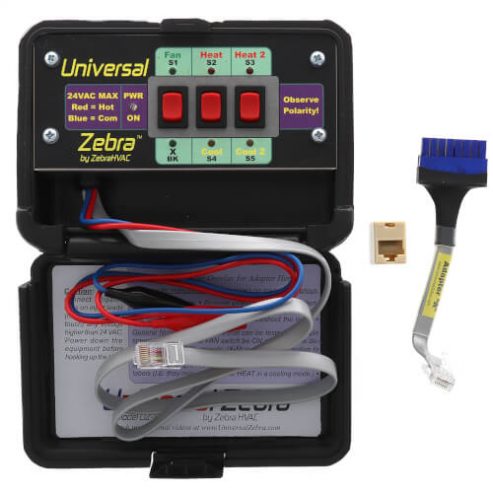 Universal Zebra System – Basic ECM Troubleshooter
The Universal Zebra System (UZ-1) is a collection of tools designed to assist technicians with diagnosing Electronically Commutated Motor (ECM) problems. Multiple ECM motors by multiple manufacturers are entering the HVAC-R marketplace and being adopted by most equipment makers today.
This is great news for homeowners, who will find significant energy savings.
However, when the motors stop working correctly and YOU are called to fix it, will you be prepared with the correct tools for the job?
The Universal Zebra System: It comes with our most popular Adapter "A" (UZHMA), which fits the very common GE/Regal Beloit Series 2.0 and 2.3 motors. It is housed in a rugged case, that protects the tool, and a latch to secure it. It also contains a harness and power input clips.
Inside the lid is a place to secure each adapter's corresponding magnetic overlay card, which describes the functions of each switch and LED with respect to that specific motor series.
Features:
Easy-to-Use; three 3-way switches and 7 LEDs
Rugged Latchable Case with Lead Storage Area
Full-Color Sleeve with Point-of-Purchase Information
Quick-reference Card bonded to the inside lid of the case
Owner's Mini-Manual included; Free Online Video Training